Tin tức tiếng Anh
50 idioms "đắt giá" giúp bạn đạt 7.0 trong IELTS Speaking
Hoa Dương
Idioms (thành ngữ) trong tiếng Anh không chỉ giúp bạn giao tiếp lưu loát, tự nhiên mà còn là yếu tố quan trọng cần thiết giúp bạn đạt điểm 7.0+ trong bài thi IELTS Speaking. Dưới đây là tổng hợp 50 idioms "đắt giá" được sử dụng phổ biến nhất trong bài thi nói IELTS. Cùng Patado khám phá ngay nhé!
Bỏ túi ngay lộ trình & phương pháp học IELTS Speaking hiệu quả giúp đạt band 7.0 IELTS
I. Idioms là gì? Tầm quan trọng của idioms trong IELTS Speaking
Idioms là cụm các từ cố định mà nghĩa của nó luôn được hiểu theo nghĩa bóng ( nghĩa khác với nghĩa các từ xuất hiện trong cụm). Để nhớ và áp dụng tốt các idioms vào trong ngữ cảnh thì bạn phải hiểu rất rõ về nó, bao gồm ý nghĩa và ngữ cảnh sử dụng.
Idioms quan trọng thế nào trong bài thi IELTS Speaking?
Trong bài thi IELTS, nếu bạn biết sử dụng idioms phù hợp, đúng lúc đúng chỗ thì chắc chắn sẽ gây ấn tượng với ban giám khảo và phần thi của bạn cũng vì thế mà được đánh giá cho điểm cao hơn. Mặc dù thông thường Idioms không phổ biến trong học thuật và phần thì viết nhưng có thể áp dụng trong phần thi nói (IELTS SPEAKING). Có thể nói rằng, nếu muốn đạt IELTS Speaking 7.0+, idioms là yếu tố cần để giúp bạn đạt được mục tiêu đó.
Muốn đạt điểm cao trong bài thi nói IELTS, tham khảo ngay kinh nghiệm xương máu khi học IELTS Speaking 
 II. 50 idioms "đắt giá" trong IELTS Speaking
Để giúp bạn "ăn điểm" trong phần thi nói IELTS, Patado gợi ý 50 idioms đắt giá kèm ví dụ chi tiết dưới đây.
At all cost
bằng mọi giá
I will marry him at all cost.
Behind the times
lỗi mốt
No one uses this type of watch as it  is behind the times.
The in thing
hợp thời, sành điệu
The iPhone 12 Pro Max is really the in thing at the moment.
Let's face it
hãy đối mặt
You can't marry him, let's face it.
In deep water
trong hoàn cảnh nguy hiểm, khó khăn
I don't have any money, I'm in deep water.
Under the weather
không khỏe
Today i feel under the weather.
A piece of cake
dễ dàng
For me, passing the Maths test is just a piece of cake.
Give someone a hand
giúp đỡ ai
He gave her a hand when she was in deep water.
Run of the mill
quá bình thường, không có gì đặc biệt
Buying a car is very run of the mill in China.
Soulmate
bạn tâm giao, tri kỷ
Linda understands me. She is my soulmate real.
Once in a blue moon
hiếm khi
Once in a blue moon I visit my grandparents as we are in different countries.
Feel blue
buồn
My boss felt blue as our company was in the red.
Set in one's ways
không thay đổi
My mom sets in her ways to buy a new car.
Be sick and tired of
quá mệt mỏi,chán ngán, chán ghét với
Lisa is sick and tired of her boyfriend's lies.
Be fed up with
I'm really fed up with doing housework.
Over the moon
hạnh phúc, hài lòng
Niki was over the moon when she got 10 in her test.
Down in the dumps
Buồn bã
My family was down in the dumps because our dog died.
In ages
từ rất lâu
In ages I heard this song.
Once in a while
lâu lâu, thi thoảng
I cook once in a while.
Green with envy
ghen tỵ
Her new house makes me green with envy.
The land of milk and honey
vùng đất tự do & hạnh phúc
Vietnam is estimated as a land of milk and honey.
In the sticks
ở vùng nông thôn
I was really sick of living in the city, I dreamed of spending my life in the sticks instead.
In the middle of nowhere
nơi xa xôi, hẻo lánh
My family has moved to a small town in the middle of nowhere and I love it.
Know like the back of sb's hand
biết quá rõ về điều gì
Sarah knows about spiders like the back of her hand.
Creature comforts
tiện nghi
My dad dislikes camping as he can not use his creature comforts.
Bend over backwards
rất cố gắng
Tom blent over backwards to pass his English exam and he did it.
Put yourself in sb's shoes
đặt vào vị trí của ai đó
If you put yourself in her shoes, you'd understand why she was angry.
Sleep on it
suy nghĩ về điều gì
Thomas asked me about dating on this Sunday and I slept on it through the night.
Keep sb's chin up
lạc quan lên
It's just a small test, keep your chin up and try to get a higher score next time.
Miss the boat
lỡ cơ hội
Hoa missed the boat to apply for a job in Big4 Company.
Leave no stone unturned
làm mọi thứ để đạt mục tiêu
Until Linda gets her target, I'm sure she absolutely never leaves no stone unturned.
Hit the nail on the head
đánh đúng trọng tâm
You should hit the nail on the head from the beginning of the articles.
Sit on the fence
lưỡng lự
Nana alwasys sits on the fence when she goes shopping.
Blow sb away
đáng ngạc nhiên
Her beauty blows me away.
Lend an ear
nghe chăm chú
I have to lend an ear when hearing his presentation.
Hit the hay
đi ngủ
You may be punished if you don't hit the hay right now.
Cost an arm & a leg
rất đắt
The diamond costs an arm & a leg, I don't afford to buy one.
In the black
sinh lời
According to the final report, my company was in the black in 2020.
In the red
lỗ vốn
Unluckily, my company was in the red because of Covid 19.
In the nick of time
vừa kịp lúc
Luckily, I came to the party in the nick of time. I was nearly late!
Find sb's feet
thích nghi nhanh
My sister found her feet quickly when moving to a new school.
A hot potato
chủ đề gây tranh cãi
Covid 19 is the hot potato in the world recently.
Fair and square
công bằng, thẳng thắn
She won the "Ring the gold bell" contest fair and square.
Fall for
cảm nắng (thích ai đó)
I fell for David at the first time I saw him.
Flight by night
không đáng tin
Don't buy clothes in this store, it's a flight by night brand.
Give a hoot
quan tâm
I seriously give a hoot about skin care everyday.
Feel like two cents
xấu hổ, ngại ngùng
I feel like two cents everytime I meet you.
On good terms with sb
thân thiện với ai
Thomas isn't on good terms with me, we never talk to each other.
Give sb a break
tạo cơ hội cho ai
My parents give me a break to travel around the world.
Change sb's mind
thay đổi suy nghĩ, đổi ý
Think carefully about leaving, hope you change your mind.
Bạn đã biết cách định hướng trả lời câu hỏi IELTS Speaking part 1 hiệu quả chưa? Xem ngay nhé!
III. Nên học và ứng dụng idioms trong IELTS Speaking như thế nào?
Trước hết nói về cách học idioms, để học nhanh và nhớ lâu bạn hãy thử:
Học idioms theo chủ đề
Tập đặt câu ví dụ hoàn chỉnh khi học idioms (hãy nhớ idioms cần được sử dụng theo đúng nghĩa và đúng ngữ cảnh)
Ôn tập và thực hành thường xuyên (bạn có thể sử dụng sổ tay ghi chép để tiện ôn bài)
Ứng dụng idioms trong bài thi IELTS Speaking đúng là sẽ giúp bạn đạt điểm số khả quan hơn song tuyệt đối không nhồi nhét idioms gây mất tự nhiên trong diễn đạt. Hãy học thật chắc để hiểu rõ ý nghĩa, cách dùng của từng idioms để vận dụng chính xác vào ngữ cảnh khi nói. Như vậy bạn sẽ dễ dàng đạt được mục tiêu với số điểm như mong muốn trong bài thi nói IELTS.
Thực hành ngay với bộ đề thi IELTS Speaking update mới nhất năm 2020 nhé!
Lưu ngay bộ sách học IELTS Speaking hữu ích nhất – bật mí từ bậc thầy IELTS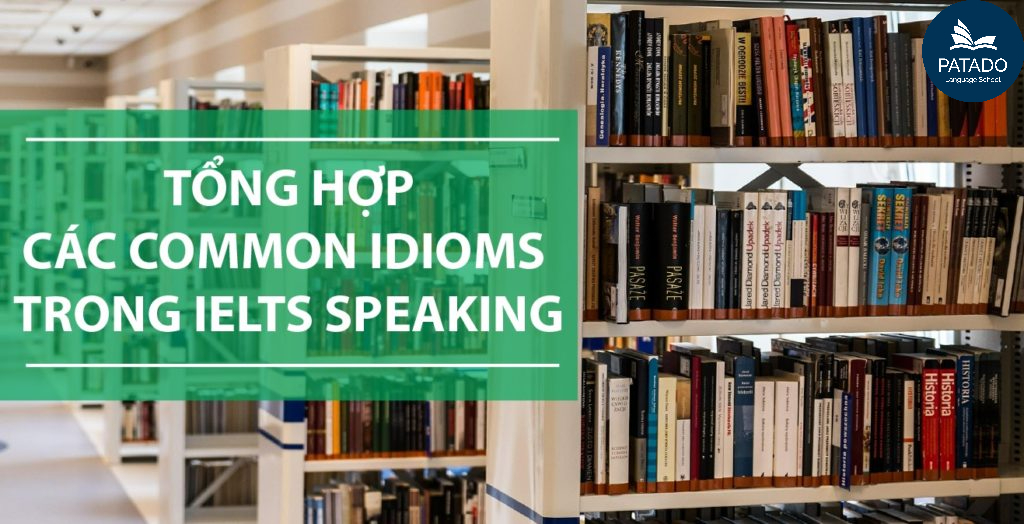 Như vậy trên đây Patado đã tổng hợp 50 idioms được ưu ái sử dụng trong IELTS Speaking kèm ví dụ chi tiết giúp bạn hiểu hơn về ý nghĩa và cách dùng của chúng.
Muốn khám phá thêm nhiều kiến thức tiếng Anh miễn phí, truy cập ngay web Patado nhé!